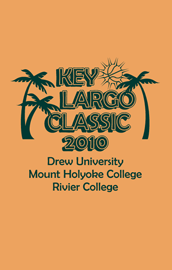 Rivier Trips Up Basketball in Key Largo, 66-60
TAVERNIER, Fla. (Jan. 3, 2010) – The Mount Holyoke College women's basketball team suffered a 66-60 setback to non-conference foe Rivier College this evening at the 2010 Key Largo Classic. It was the first ever meeting between the two programs.
Mount Holyoke (4-6, 2-2 NEWMAC) will round out its holiday trip against Drew University tomorrow at 2:00 p.m. The event, which is taking place at Coral Shores High School, will conclude with a contest between Rivier (7-3, 0-0 GNAC) and Drew on Tuesday at 1:00 p.m.
Leading the way for Rivier was senior forward Jess Mellen, who piled up 10 points, 13 rebounds, six assists, six steals and four blocked shots. The Raiders also received solid production from senior guard Monica White and first year guard Lauren Brett, who tallied 16 and 15 points, respectively. Rivier was limited to just 29.0% (18-62) shooting from the field but drained 82.1% (23-28) of its free throw attempts. The Raiders knocked down seven shots from beyond the arc.
Mount Holyoke was paced by first year guard Angelica Pascual, who recorded her first career double-double on career highs of 21 points and 10 boards. Senior guard Erin Cain finished with 14 points, while sophomore guard Christine Chancy added 11. The Lyons fell despite a 46-35 edge on the glass. They converted 42.1% (24-57) of their shots from the floor and made six treys.
Rivier jumped out to a 10-2 advantage and led 21-10 midway through the opening frame. A three pointer by junior guard Emilie Methot capped off a 12-4 Mount Holyoke run and sliced to deficit to 27-24 with four minutes remaining in the half. The Raiders then scored eight of the next nine points to open up a 35-25 cushion at the break. Pascual led all scorers with 12 points at the intermission. Meanwhile, White had 11 for Rivier.
Mount Holyoke sizzled out of the gate in the second stanza, outscoring the Raiders 18-6 over the first six minutes. Chancy racked up seven points during the rally. Her three pointer at the 14:18 mark put the Lyons in front 43-41. It was their first lead of the contest.
Neither side led by more than four points over the next 10 minutes, as the teams jockeyed for position. A jumper by junior forward Steph Adams gave Rivier a 59-54 edge with 3:22 remaining in regulation, but Mount Holyoke exploded for six unanswered points over the next two minutes to gain a 60-59 advantage.
From there, it was all Rivier. The Raiders regained the lead on a three pointer by sophomore guard Amanda Purcell and closed out the game with seven consecutive points.